SDS Convention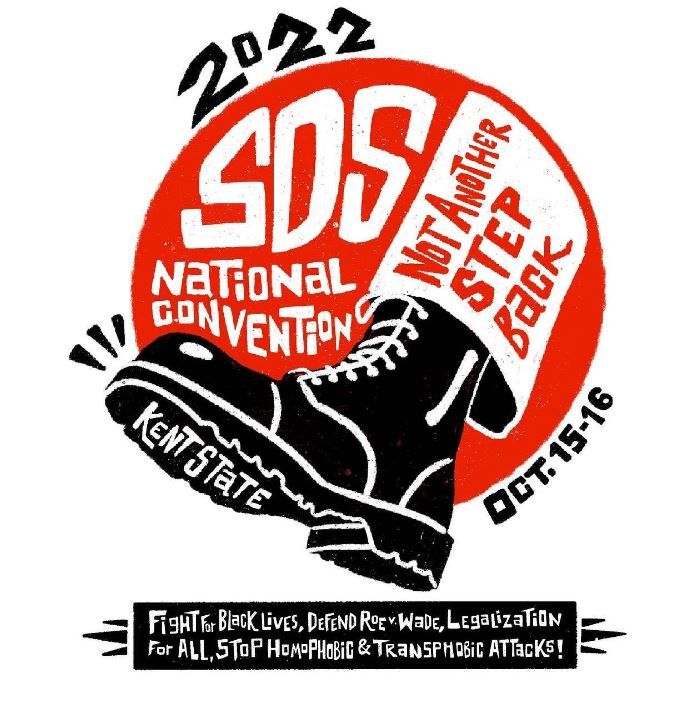 On October 15th to 16th, Saturday and Sunday, 2022, we are having our 16th Annual Students for a Democratic Society National Convention!
Register to Attend Here
Register to Host a Workshop Here
Location: Kent State University, Kent, Ohio
Date: 10/15/22-10/16/22, Sat and Sun

We are convening to say: "We Will Not Go Back!"
Our plenaries are:
Fighting Gender Based Oppression: Defending Roe v Wade, Women's Rights, and LGBT Rights
Labor Strikes Back: Student Solidarity with Organized Labor
Students Demand Police Accountability, No More Police Crimes
SDS Against US Wars and Occupation: Russia, Palestine, The Philippines
---
We Will Not Go Back!
Defend Roe Vs Wade, Fight for Black Lives, Stop All Homophobic and Transphobic Attacks, and Demand Legalization For All!

We reject the overturning of our right to a safe and legal abortion through Roe vs. Wade. We reject the ongoing police crimes committed against African Americans throughout the United States. We say NO to the homophobic and transphobic bills and attack spreading from state to state. We also support the demand legalization for all 12 million plus undocumented immigrants across the US!

Join us as we return to one of the most historical campuses to the student movement in US history, Kent State University!
---
💡
Here is a message from one of our Kent State SDS members, inviting everyone to this year's convention:
"As some of you may know, SDS at Kent State has a storied legacy: on May 4, 1970, the National Guard directly shot at an SDS-led protest on the Vietnam War, killing 4 students. SDS was active throughout the 60s on our campus, winning many important victories. Through our work as a chapter now, we hope to honor this legacy and keep the spirit of activism alive, which is why we are so excited to be hosting the national convention this year! We have been hard at work this summer to put on this convention, and we hope all of you can make it."
💡
For more about our predecessors and the Kent State University students who protested the Vietnam War, you can find that here: https://en.wikipedia.org/wiki/Kent_State_shootings
Stay tuned for more details on our panels and speakers.