SDS Condemns National Don't Say Gay Bill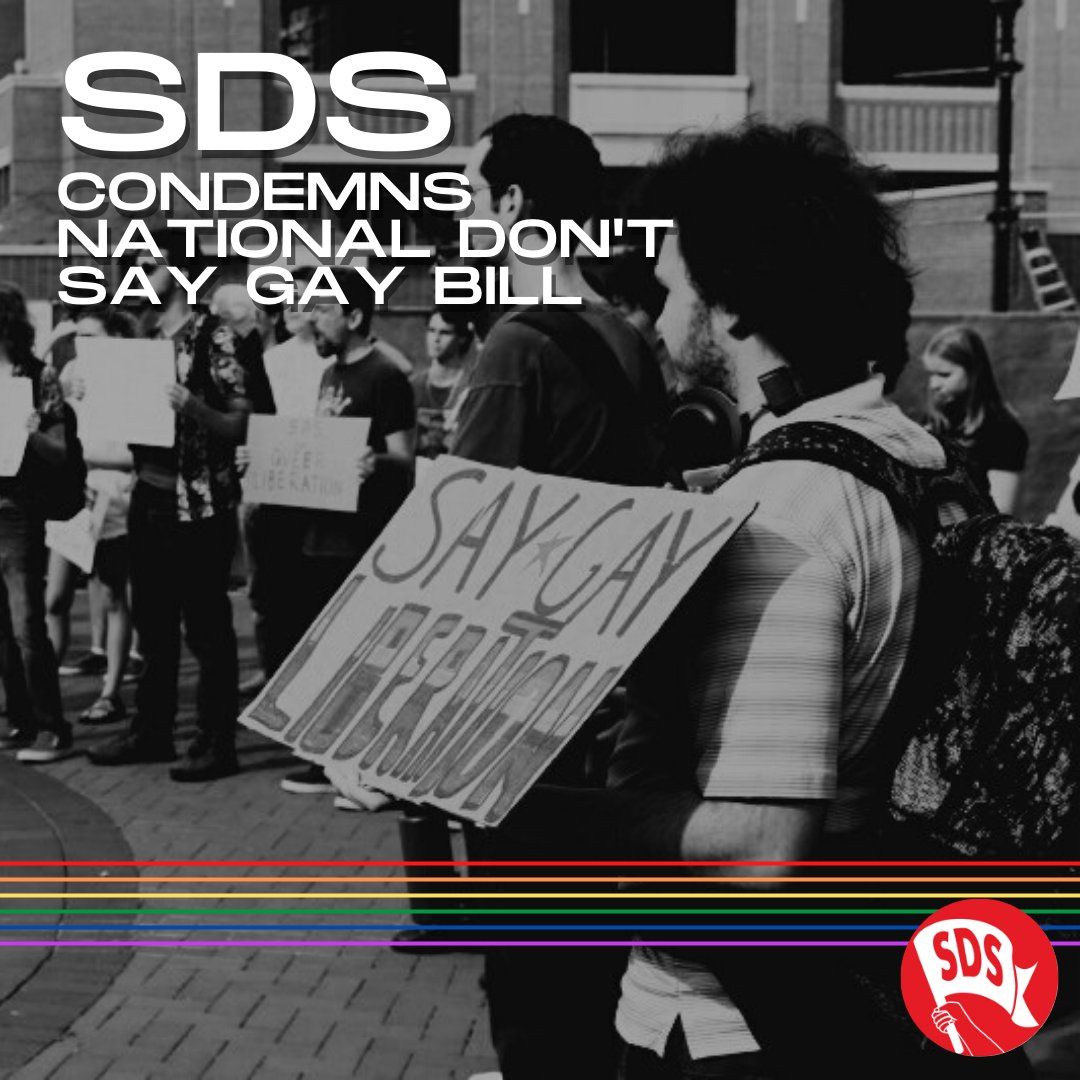 Students for a Democratic Society condemns the so-called "Stop the Sexualization of Children Act '' being introduced into congress. This legislation comes in the wake of continuing attacks on LGBTQ+ youth. Through this bill, Florida's HB 1557, otherwise known as the "Don't Say Gay" bill, becomes national in scope, affecting LGBT youth across America.

This act is the latest in a long line of attacks on LGBTQ+ rights, and LGBTQ+ youth specifically, from trans athletes being banned from participating in school sports, to massive restrictions being placed in several states on access to gender affirming care and more. The act affects all federally funded facilities and programs; it would prohibit schools from providing sex education and access of library books with LGBT topics to children under 10, and no library funds would be banned from going into programs like Drag Story Hour. Even learning about being transgender in school would be heavily suppressed, kicking LGBTQ+ youth right back into the closet.

The attacks on LGBTQ+ youth are part of the larger assault on people's rights in the country, and go hand-in-hand with the attacks on abortion and womens and reproductive rights that are currently being levelled. We cannot ignore these attacks. Just as we have to build a united fight for women's and reproductive rights, we have to build a united fight for LGBTQ+ rights to defend and advance them in the face of open attacks, knowing that those pushing these attacks will not stop here. We won't take another step back!

Within SDS, our chapters in Florida have led the charge against the Don't Say Gay bill and the constant attacks leveled against LGBTQ+ rights in the state, and we will not back down as a national organization either. In response to this latest attack, we are calling on students, youth and community members to join us in a national week of action from November 14th-18th to Defend and Advance LGBTQ+ Rights and fight back against the national Don't Say Gay bill! We can't and won't back down from this fight!

Stand up, fight back!
Defend LGBTQ+ rights!
Dare to Struggle, Dare to Win!